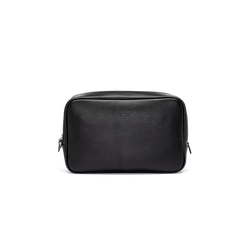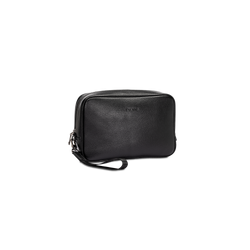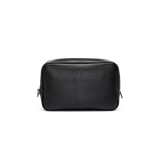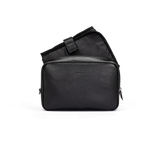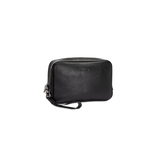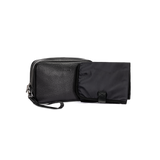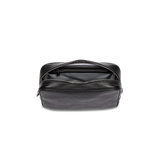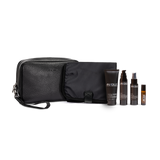 ✓   This product qualifies for FREE Delivery!

✓   This product qualifies for FREE monogramming!
✓   Exclusively available online!
THE TOILETRY BAG DESIGNED FOR PARENTS
Designed in Australia for modern parents, the ONE NINE Toiletry Bag is styled to suit both mums AND dads, making it the perfect bag to carry your personal care & baby care products.
The minimalistic design seamlessly compliments our range of leather bags and accessories for parents. Whether you use it to store your little ones' care products or use it for your personal items or both, the larger size and smart, space-saving internal storage solutions give you the freedom to use it how you want. Doesn't look like a bag for parents at all, making it double as your daily toiletry bag at the same time! 
OPTIONAL ADD-ON! ANOQUE SKINCARE KIT FOR DAD!
Anoque's Men's Kempt Skincare kit for the ultimate natural face kit. It's made with natural ingredients, free from Parabens and nasties, and is sourced locally from cruelty-free suppliers. It's perfect for all skin types and at any stage of life. This kit is designed to cleanse, scrub, tone and hydrate your face leaving your skin feeling and looking amazing. 

In the Anoque Men's Skincare Kit:
Daily Moisturiser

Hydroxy Toner
Face Scrub
Face Oil 
PARENT'S TOILETRY BAG FEATURES
Made with premium materials, top grain leather, water-resistant internal lining, and heavy-duty metal zips and buckles (not plastic), the ONE NINE leather toiletry bag is highly durable, and designed to look great no matter if mum or dad is carrying it.
Matching padded baby changing mat

4 elasticated slots
1 x internal zip pockets
Clip-on/off adjustable wrist strap

Metal zips & Hardware


Wipe clean, water-resistant internal lining

2 x multipurpose D-rings

Wide opening Design
Large capacity
Materials
Exterior             Premium top-grain pebbled leather
Interior              Water resistant textile lining
Hardware          Metal (not plastic)
Dimensions
Toiletry Bag      W: 26cm  H: 17cm  D: 7cm
Changing Mat  W: 34cm   H: 66cm
Weight
0.4kg
Leather Care Info

ONE NINE bags & accessories are made with premium grade top-grain leather, which not only looks and feels luxurious, it's also extremely durable. Here are a few tips on how to keep your ONE NINE leather items looking like new:
Only lift your item/s by the handle or straps (never lift it by the zippers!)

Avoid overloading your bag (overloading may cause undue stress on zips / handles / straps)

Avoid rubbing your leather item/s against rough surfaces (keep that leather looking fresh!)

Avoid exposing your leather item/s to excessive temperatures, sunlight and moisture

To keep its shape, avoid folding or resting heavy items on your item/s 
Cleaning your ONE NINE item/s 
Cleaning up any spills or mess is easy, no matter if it's on the outside of the bag, on the internal water-resistant lining or on an accessory
:
Wipe down the affected area with a clean moist cloth (using water or mildly soapy water only).

Gently pat dry the affected area with a paper towel or cloth.

Leave it to further dry naturally out of the way of direct sunlight.
Monogram Care
To maintain a clean, new look, try to minimise touching any monogrammed area.
Liquids and oils (including natural body oil) can cause monogramming to fade over time.
Important:
Do not use alcohol-based cleaning solutions (this can degrade the material).
Do not put your bag or changing mat in the washing machine.
Storing your Leather Item/s
If you're not using your bag for a long period of time, place it in the provided dust cover and store in a cool, dry place.
Avoid resting or placing objects on top of your bag, as it may cause the bag to loose its shape.
ONE NINE Pram Clips
PLEASE READ BEFORE USING ONE NINE PRAM STRAPS:
ONE NINE Pram Straps are designed specifically to be used with the ONE NINE Nappy Backpack. Do not use the pram straps in combination with any other product. 
Do not attach the pram straps to the bag handle. This can cause unnecessary damage to the bag and result in uneven weight distribution in your pram, causing it to tip. 
Ensure your pram is level and its brakes are engaged before attaching the pram straps. 
WARNING! Do not overload your ONE NINE Nappy Backpack. Overloading may result in uneven weight distribution in your pram, causing it to tip.
To have your purchase delivered in time for Christmas, please refer to the following order cut-off dates below.
Terms and conditions apply. 
Delivery order cut-off dates
 may vary due to unexpected and unforeseen 
circumstances.
If your order is placed after the cut-off date,
we can not guarantee that it will be delivered
 before Christmas.